We are happy to announce that we have integrated oTree inside our site, economics-games.com.
oTree is a great free open source software for creating economics experiments and classroom games, which is already used in many experimental economics research centers (http://www.otree.org, "oTree – An open-source platform for laboratory, online, and field experiments", Journal of Behavioral and Experimental Finance, vol. 9, n° 1, 2016, p. 88–97, by Daniel Chen, Martin Schonger, and Chris Wickens).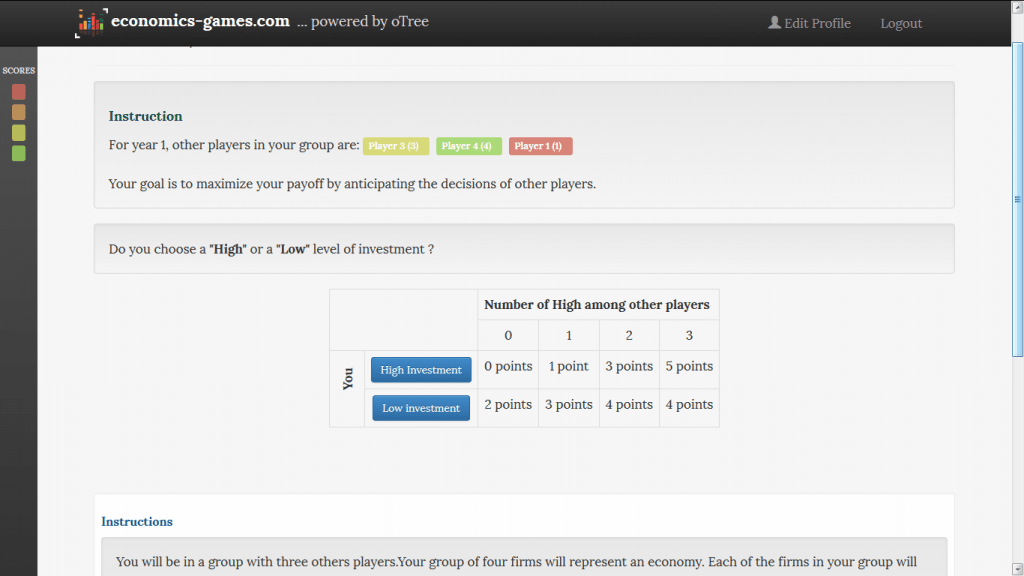 If you have a little time, we would highly recommend you to code your own game (in Python): Everything is very clearly explained on the oTree website.
If you do not want to host your own server, you will find here several of the introduction games that are delivered with oTree:
Market for Lemons
Vickrey Auctions
Common-Value Auctions
Principal-Agent game
Bertrand Competition
Beauty Contest
An Ultimatum game
A Matching Pennies game
The Traveler's Dilemma
A Trust game
A Stag/Hunt game
A Bargaining game
More advanced games, including original ones, will be added on a regular basis.
Also, If you have coded your own game or experiment and feel like publishing it in open access on our platform (or if you want to share a pedagogical document about existing games), do not hesitate to contact us.






by