… And the Winner of the Economics Tournament is … HEC Montréal !!
Toulouse School of Economics, who was 1st from Year 2 to Year 4, ends the game at the 2nd place.
Cardiff Metropolitan University also stands on the podium with a great 3rd place!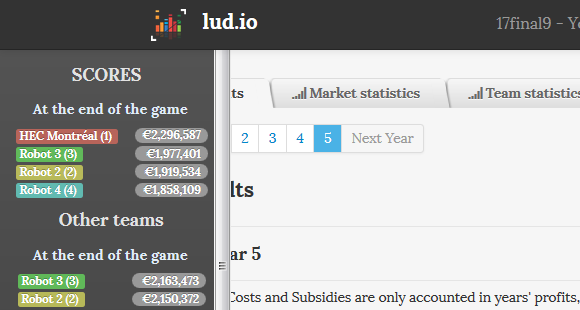 Here is the complete ranking of the Final:
HEC Montréal
Toulouse School of Economics
Cardiff Metropolitan University
CentraleSupélec
Universidad de Málaga
Ecole Centrale de Marseille
Ecole Nationale Polytechnique (ENP) – Algeria
University of Glasgow
IMT Atlantique
Athens University of Economics and Business
Aston University
…
ENSAE ParisTech was also qualified to the Final.
Congratulations to you all, this was a hard competition! Among the 31 teams, from 14 countries, who registered, 24 finished the qualification game and 12 qualified to the Final.







by